Aire Rite Joins CMS Nextech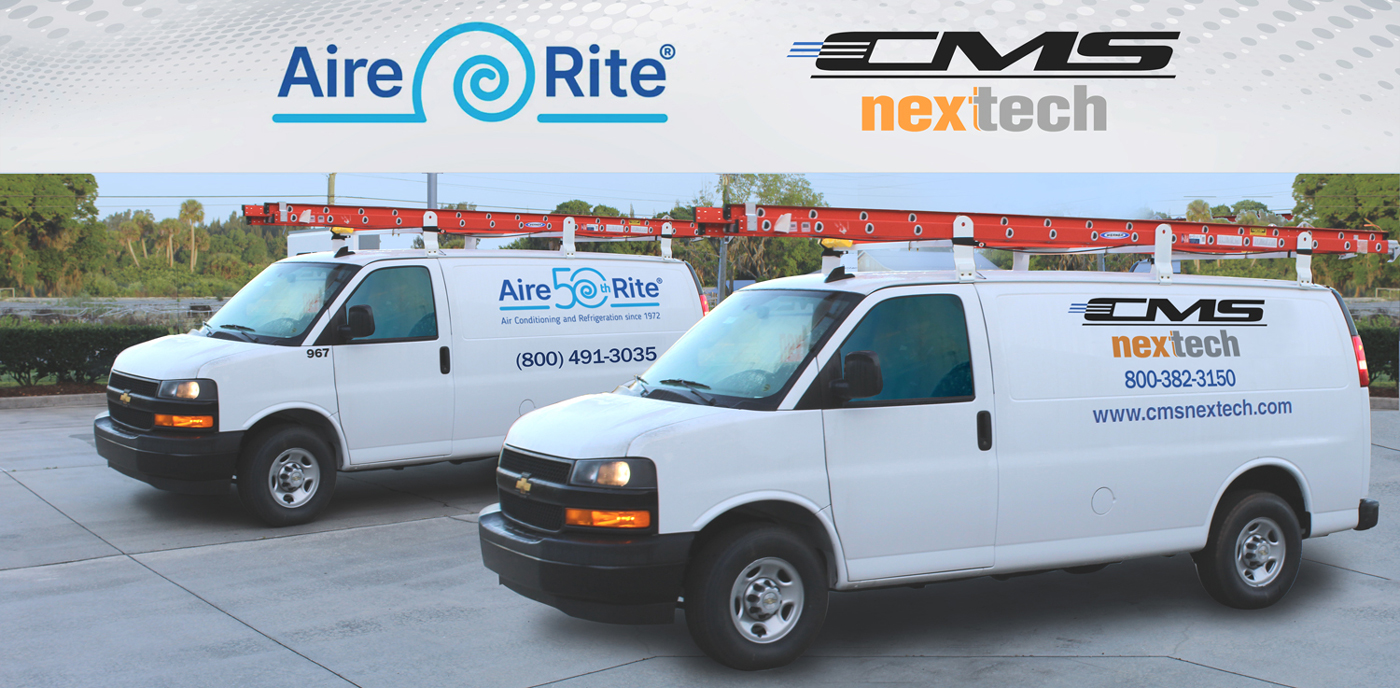 CMS Nextech is proud to announce the acquisition of Aire Rite, a California based air conditioning and refrigeration company that provides a broad range of comprehensive services throughout all of Southern California for more than 50 years. The acquisition brings CMS Nextech to over 1,100 self-performing technicians nationwide. The expansion will extend CMS Nextech's reach deep into the massive Southern California market. Adding Aire Rite to the CMS Nextech national team provides our customers with the high level of expertise and service that CMS Nextech has built its reputation on over the past 30 years. With the expansion into southern California, CMS Nextech will have greater technician density and increased coverage throughout the state.
About Aire Rite

Aire Rite is well known as a leading technical solutions provider delivering solutions that work for over 50 years.
Their extensive experience within the C-Store and Food Service industries gives customers the resources they need for servicing everything from building automation, cooking equipment, HVAC, ice machines and refrigeration.
Aire Rite's proactive maintenance programs integrate a variety of predictive analytics, fault detections and diagnostic (FDD) that reduce reactive service calls.
Aire Rite invests heavily in their employees by providing ongoing skill-based training through their comprehensive "Build-a-Tech" courses.
Their family of companies provides its customers with a wide scope of offerings including project design and installation, building solutions as well as sales and leasing programs. Aire Rite is built from seasoned HVAC/R industry veterans with an experienced history of technical services and HVAC/R management skills. To learn more about Aire Rite and its services please visit www.airerite.com
About CMS Nextech

CMS Nextech was established in 1992 with a mission of providing self-performing commercial HVAC/R services focused on quality, value, and integrity. With this business model, CMS Nextech has been able to steadily grow its client base, technician density, and coverage area over the past 30 years. This growth has led to CMS Nextech proudly becoming America's largest independent self-performing commercial HVAC/R service provider. Our goal has always been to establish strong relationships with clients and become a strategic partner that is committed to serving our customers over the long term. Through top-level industry expertise and highly skilled and experienced technicians, we provide solutions tailored to each customer's unique needs. Industries serviced include dining, grocery, restaurants, retail, outlet stores, medical facilities, warehouses, distribution centers, and more.
Here at CMS Nextech, we provide our customers with 24/7 nationwide service and support through our vast network of directly employed, self-performing technicians. We are currently self-performing in 45 states and have an established peer network in the remaining areas. Headquartered in Melbourne FL, CMS Nextech has 1,600+ employees supported by 38 regional offices; allowing us to provide our services to more than 50,000 active customer sites. To learn more about CMS Nextech and the services we provide please visit www.cmsnextech.com