Nextech now offering Hotside & Food Service Equipment Services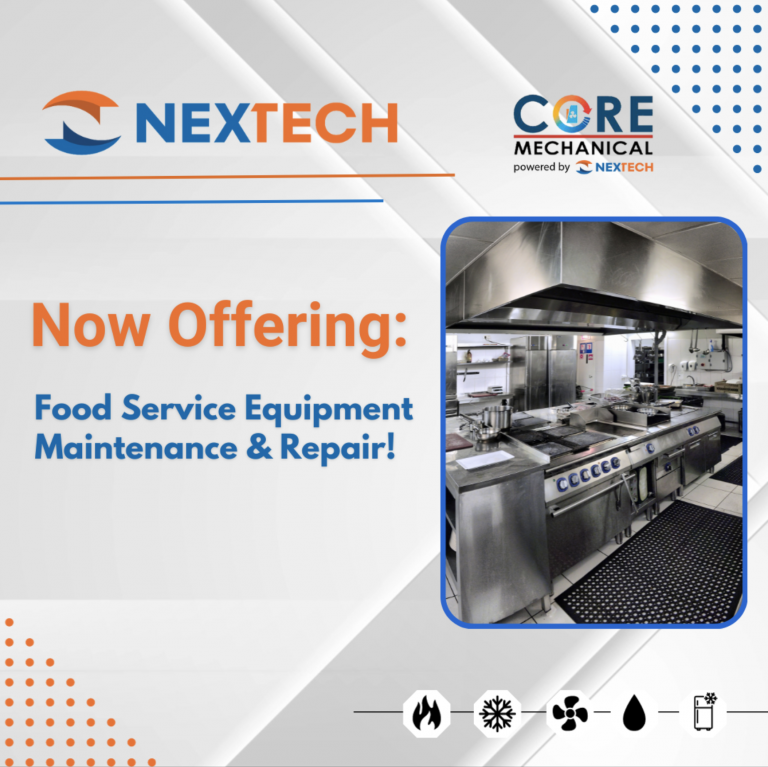 Nextech Expands its Service Offerings with the Full Integration of Core Mechanical
Nextech, America's largest independent HVAC/R service provider, is delighted to announce the successful acquisition and full integration of Core Mechanical, a prominent player in the mechanical services industry throughout the state of Texas. This strategic move, effective as of November 6, 2023, strengthens Nextech's position as the largest self-performing HVAC/R service provider in the nation and opens up Food Service Equipment and Stainless Steel Fabrication lines for our customers.
With this acquisition, Nextech aims to augment its service offerings and provide clients with an even more seamless, end-to-end experience. Core Mechanical's profound expertise in mechanical services, combined with Nextech's status as the largest independent HVAC/R service provider and its advanced technology, creates a powerful synergy that will drive innovation and deliver unparalleled value to customers.
"Our integration with Core Mechanical is a testament to our commitment to providing exceptional service management solutions in the industry," said Luis Orbegoso, CEO at Nextech. "By bringing Core Mechanical's highly skilled team and extensive experience into the Nextech family, we are expanding our capabilities and reaffirming our dedication to empowering businesses with top-tier service, enabling them to thrive."
As of November 6, 2023, customers can expect a seamless transition, with Core Mechanical's services fully integrated into Nextech's robust service management platform. This integration will empower clients to optimize their operations, streamline workflows, and enhance customer satisfaction, ultimately driving business growth and ensuring superior service delivery in the HVAC/R and now FSE industry.
"Core is indeed excited about the contribution of skills and capabilities it will provide to the greater Nextech team. This is an exciting and historic time for our company, and we should take pride in all of our hard work and dedication towards seeing this process through. It is an honor to be part of such a great company, a company that will enable us to achieve our goals of providing exceptional service to our customers. The total combined company will have the scale, extended skills, and capabilities to compete more effectively and profitably in the FSE marketplace." Joseph Hass – CEO
About Nextech:
Nextech is America's largest independent self-performing commercial HVAC/R service provider and continues to grow. Over the past 30 years, a continued focus on quality, value, and integrity has enabled Nextech to create strong relationships with thousands of long-term customer partners. Nextech uses its Nationwide self-performing coverage area, commercial expertise, dedicated support, innovative technology, and years of experience, to provide services designed to meet our customers' unique needs. Nextech's goal is to establish strong relationships and to be a strategic partner with each customer for the long term. We serve thousands of multi-site, Fortune 500 companies in industries including dining, grocery, restaurants, retail, outlet stores, medical facilities, warehouses, distribution centers, and more.
Nextech provides 24/7 nationwide service with directly employed self-performing technicians across the Continental U.S. Headquartered in Melbourne, Florida. Our 2,300+ employees are located nationwide and supported by 45 regional offices which allow us to service over 50,000 active customer sites. To learn more about Nextech and its service offerings, please visit www.nextechna.com