CMS Nextech, is the nation's leading, privately-held HVAC and refrigeration service provider. Since beginning in 1992, CMS Nextech and our team of employees have been driven to provide customers the best service and solutions in the commercial HVACR industry. As we've grown, CMS Nextech has become one of the largest self-performing commercial contractors by leading the industry in technology and customer satisfaction.
CMS Nextech services sites nationwide and covers many vertical markets which require a vast array of skills and expertise. Our network of licensed technicians provides service to Fortune 500 companies and large businesses nationwide.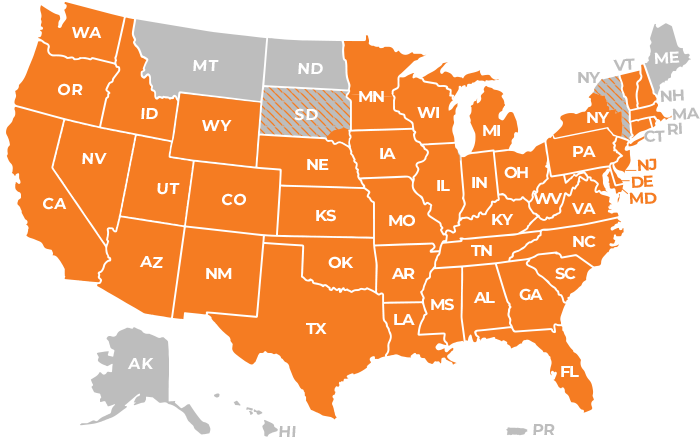 To support our growing customer base,
CMS Nextech operates in the following locations:
– Loxley, Alabama
– Melbourne, Florida
– Lawrenceville, Georgia
– Indianapolis, Indiana
– Grimes, Iowa
– Lenexa, Kansas
– Hammond, Louisiana
– Plain City, Ohio
– Henderson, Nevada
– Schiller, Illinois
– Tulsa, Oklahoma
– Allentown, Pennsylvania
– Salem, New Hampshire
– Fort Mill, South Carolina
– Smyrna, Tennessee
– Denton, Texas
– New Braunfels, Texas
– Spring, Texas
– Ashland, Virginia
– Roanoke, Virginia
Self-Performing States | Coverage Map
CMS Nextech's service offerings and consistent growth demand employees with a wide range of skill sets. We are hiring experienced HVAC/R service industry candidates for Service Technicians, Service Management, Business Development, and Account Management team members. Career opportunities are available in each of our operational offices.

If you are interested in a career with unlimited opportunities for growth and advancement, as well as a comprehensive compensation package including 401K plan, medical, dental, vision, life and disability insurance benefits, paid vacation/holidays, please contact us. E-Mail: recruiting@cmsnextech.com.
---
CMS Nextech is an equal opportunity employer that is committed to diversity and inclusion in the workplace. We prohibit discrimination and harassment of any kind based on race, color, sex, religion, sexual orientation, national origin, disability, genetic information, pregnancy, or any other protected characteristic as outlined by federal, state, or local laws. This policy applies to all employment practices within our organization, including hiring, recruiting, promotion, termination, layoff, recall, leave of absence, compensation, benefits, training, and apprenticeship. CMS Nextech makes hiring decisions based solely on qualifications, merit, and business needs at the time.